I know Taylor's mom, Marghe Means, from the Avondale Arts Alliance board. The youngest artist that the Bill Lowe gallery represents, Means is currently in a three person show titled Unravel the Mystery, with Kathleen Morris and Barbara Brenner, up until early November. I went to the opening on October 12th and was stunned by the size of the place.  Another on my list of 'to see' galleries after a long haitus away from Atlanta, Lowe's space is multi-roomed with huge ceilings and a balcony where an overflow of work was hung. Waitpersons, wine and food were on hand for guests.
Means is only 24, a 2011 graduate of the Maryland Institute College of Art, yet he's been active in the Atlanta arts scene and has installed public works in various locales; a mural at Little Tree Studios where he has his own space, at the Eastern Shore where he painted an abandoned fishing boat, and in DC where  he's been working with the Atlanta artist Alex Brewer (HENSE) on painting a church. Jerry Cullum, former senior editor of Arts Papers and an Atlanta arts critic and reviewer, wrote this piece after a recent studio visit with Means. There is a typo on the site, the date should be 2012, not 2007.
Means may be influenced by Basquiat and perhaps Egon Schiele, his loose drawings and pen and inks reminded me of Picasso's etchings and drypoints. However, his sense of color is dynamic and sophisticated for an artist of any age. Yellow green interspersed with black and pale pink stripes is reminiscent of Vuillard's and Matisse's patterned interiors. Means uses red to an advantage in making a strong statement, but it never overwhelms the painting. His economy of color is refined and line and form come first.
A figurative painter who fully abstracts the human form, Means seems to be interested in content as a secondary theme to the work. Color serves as a symbolic and emotional way to read the paintings. There may be relationships between his characters, but my initial impression is that these are for the viewer to discover and interpret.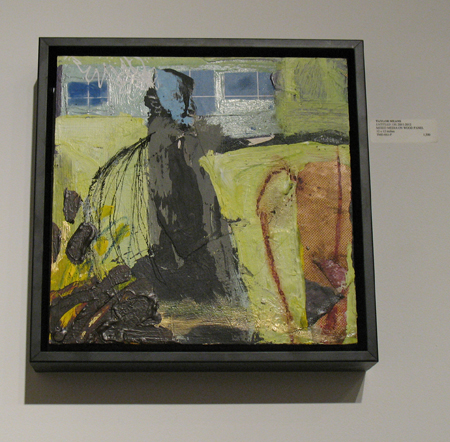 The artist hints at forms like flowers and structure within the frame, further obscuring whatever literal content can be derived. Stylistically, some pieces use Beardsley-esque figures in black that depict a kind of dark portent.
It will be fascinating to see how this artist progresses as he develops his body of work. I plan a studio visit soon and hope to report back.