Two new small works for spring. These were finished in mid February and since then I've been working on a large piece for a commission. Stay tuned.
Blues for Ravel. Oil on canvas panel, 11″x14″, 2011.
Daffodils. Oil on canvas panel, 9″x12″, 2011.
My old friend Brad Mix brought over this wonderful bird 'townhouse' last week and we traded for a painting. He's been helping me with some small house repairs. We originally met in Atlanta when I moved into his apartment on St. Charles in 1977, and he moved to Inman Park. He now lives in Alabama with his family, but works here in the film industry, making sets and working as a master carpenter.
One little bird immediately scoped out the new pad.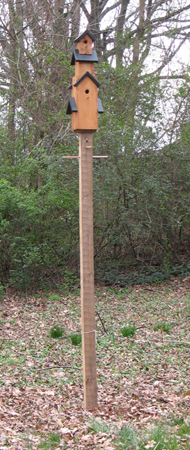 See those roofs through the trees? Those are just two of five new 'RockStrong Homes' that are going up on an acre behind me. The developer had bought the land back in 2004. In about a week, two houses were framed up. Displaced birds can find a home in my yard.