Georgia Perimeter College's native plants garden, just south of Decatur, is perhaps a well known secret to Atlanta gardeners. This past Sunday I spent an afternoon listening to volunteer Karen Lindauer's talk on native plants that are easily grown here in the Southeast, and then took a walking tour of the gardens and woodlands. My neighbor and new gardening friend Linda and I drooled over the ferns, tiny spring flowers and unusual mosses.
Over 4,000 species of native, rare, and endangered plants are featured in the gardens; there are bog and meadow plants, 10,000 ferns and native trees, perennials and shrubs. This 4 acre woodland contains more species of ferns than anywhere else in the US, perhaps the world!
The garden is looking for volunteers and always has an early plant sale, this year it's Saturday March 26th, these continue throughout May on Saturdays and Wednesdays. I'll be working this season to help with the gardens and to take advantage of the vast knowledge base that George Sanko, its founder and CEO, always offers during these lectures and outings.
You can sign up for the upcoming Lunch and Wildflower series of talks.
Lemon Trillium
Underwood's Toadshade Trillium
Needle Palm, native to Georgia.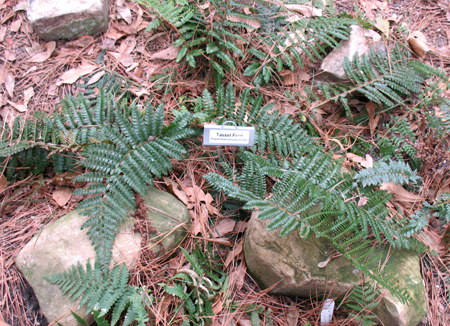 Tassel Fern.
Ostrich Fern.
Tongue Fern.
Dryopteris Stenolepis.
Or just visit and sit in the gardens listening to the birds. It really is a sanctuary of lovely green and quiet just beyond the city.
Links:
Georgia Cooperative Extension Service