John Marin's (1870-1953) watercolors, early etchings and a few oils are on exhibit at the High Museum here in Atlanta from now until September 11, 2011. The exhibit was originally organized by the Art Institute of Chicago, Â which offers a good image selection on their site, in addition to themes within Marin's work and his biography.
A New Jersey native, in 1905 Marin traveled to Paris and stayed for five years, using his Montparnasse studio as a base to explore Europe. An admirer of Whistler, he sold etchings to dealers in Europe, Chicago and NYC and had the first opportunities to show in public.
I could see Robert Delauney's influence in this 1912 painting:Â Movement, Fifth Avenue. Alfred Stiegletz Collection. (all photographs courtesy Art Institute of Chicago, except where noted)
Tour Eiffel, 1911. Robert Delaunay. Solomon Guggenheim Museum of Art.
The show is chronologically laid out, but a few of Marin's early works are as abstracted as his later pieces. He wasn't interested in absolute abstraction, as separate from landscape, according to a Kennedy Galleries catalog of their 1981 exhibit, John Marin's New York. However, the art historian John Baur claimed that Marin's 1903-04 small oils known as Weehawken Sequence, could have been the earliest abstracts done by any artist either here in America or abroad, if those dates are correct. Roberta Smith thinks the same thing in her February 2011 NY Times article on the series, saying that this "must have given Kandinsky scholars the willies."
Two are shown below, not included in the exhibit and I can't find provenance for them except from this writer's blog.
Was Richard Diebenkorn's perspective flattening 1960's series of San Francisco cityscapes informed by Marin's dramatic way with perspective? I've never read anything about him attributing Marin as an influence, and yet it would be hard to deny the similarities.
Movement No. 24- Pertaining to Deer Isle – The Road. Alfred Stiegletz Collection.
Richard Diebenkorn, Cityscape 1, 1963. San Francisco Museum of Modern Art.
Marin and his wife Marie Hughes first visited villages on the coast of Maine in the summer of 1914. After that most prolific year, the couple and their one son spent summers in Maine, winters in NY and NJ. In 1933, the family moved into a summer house on isolated Cape Split, Maine – with glassed-in porch on two sides and views of the sea; the perfect studio for Marin. He said, "The house is so close to the water I almost feel at times that I am on a boat." He worked up until his death at this home in 1953.
Here's a good video from the Art Institute of Chicago site that describes how Marin gained recognition as the numero uno American artist during his lifetime:

A reclusive artist who didn't hide his feelings and spoke bluntly, Marin's ability to express motion in his work precedes the New York Abstract Expressionists by decades. The emotionally charged content of these paintings makes some of the current trends of irony and heavy handed conceptualism seem in contrast, bereft of all feeling and unsuccessful at reaching the viewer.
To  his old friend and patron Alfred Stieglitz, who gave Marin his first show, he once wrote:
It's been a beautiful world—it is a beautiful world—it's the only world we've known—Our work was done in this world—Our friends have been of this world—and we have fared moderately well and we have enjoyed the living moderately well with some Swell moments."
Sea Movement- Green and Blue, 1923. Alfred Stiegletz Collection.
The Sea, Maine. (no provenance from the site this was on)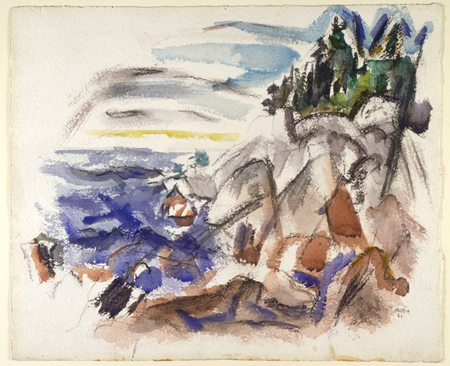 Approaching Fog, 1952. Estate of John Marin.
I'm already dreaming about a Cape Split painting trip for the fall….