I volunteered a few hours of my time at the Decatur Garden Tour last weekend, specifically at a garden with pool and beautifully cared for antique roses. Pat Maddux, owner and gracious hostess, spent the entire shift with us volunteers. While we sat on her patio and drank iced tea, she pointed visitors to the goldfish pond and the sparkling salt-water pool. Not a bad trade for tickets to the tour.
Private enough for skinny-dipping on hot summer nights…what bliss!
Pat told us about AW Pottery as a source for garden urns and pots, and Elizabeth Dean's Wilkerson Mill for hydrangeas. I may have to drive down for a visit later this month.
David Austin roses scent the front yard and other varieties border the pool.
She has Ligustrum, Tea Olives (osmanthus fragrans) and Arborvitae Green Giant in her foundation plantings.
Original wood models for papier-maché bunnies.
The next day I visited three gardens. This first one on Adams Street owned by Patty and Ed Buckley, had a tiny formal herb garden, great seating arrangements and  lovely perennial borders scattered with sculptural elements.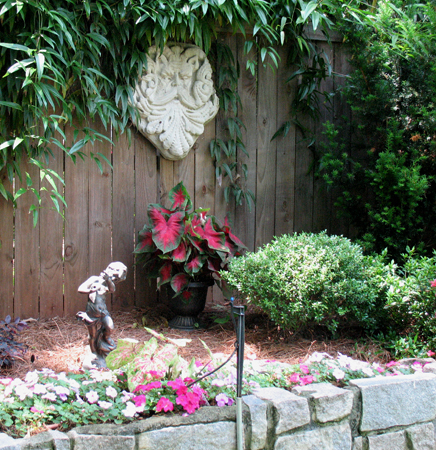 The Daiga Dunis and Kim Wallen garden was also on Adams Street and featured a pond and old stone garage converted to artist's studio.
An idyllic backyard for reading, listening to birds and sketching. Cool and serene.
Ryan Gainey's magical enclave was next. If you've never visited his garden, please go on Decatur's fall garden tour. And try to meet him. He is a marvel of knowledge about plants and flowers. I went to his late afternoon talk on antique roses and how to use them in the garden. To answer a question about whether his roses liked being intertwined with moonvine, clematis and jasmine, he whispered, 'they are lovers'. Atlanta's poet of nature.
The irony  is not lost on Gainey that the Cherokee Rose is Georgia's state flower, while the state drove the entire Cherokee tribe out of the territory from the early to late 1800s. He pointedly asks us if we know the rose's history. His own great great grandmother was a full blooded Cherokee. Watch him talk about the mythology of the rose in this video.
Some of his other suggestions include using the 1930 climber, New Dawn with clematis and confederate jasmine.
A charming guest cottage in the back of the property.
A spiral staircase up to the tree-house.
Greenhouse with goddess sculpture.
A special Eden.
Manicured boxwoods.
Gainey reading from Peter Coates'Â hard to find 1970 book, Flowers in History. Another recommended book is A Rose by Any Other Name by Douglas Brenner and Stephen Scanniello. Gainey says he never sprays his roses, not even for black spot or powdery mildew. He chooses hardy varieties and plants only those that bloom once a season. He gets 1 gallon plants from two favored growers; Pat Henry of Roses Unlimited ("she has a passion for roses"), who grows them on their own rootstock, and the Antique Rose Emporium in Texas.
Finally, a wonderful video on the Southern Spaces site about figs with Gainey's narration, produced by Steve Bransford.
Excerpt from Bransford's essay:
This video short is one of several satellite pieces connected to their comprehensive film about Gainey, which fuses biography and botanical discourse. Born in the 1940s, Gainey grew up poor and gay in rural South Carolina and attended Clemson University, where he studied ornamental horticulture. Using vernacular plants in classical garden design, he became a successful landscaper in the 1980s. He is renowned for pairing English garden aesthetics with native plants of the southeastern United States.
As is evident in the introduction of this short video, Gainey's gardens become fields of memory. He participates in seed saving movements that value heirloom plants, both botanically and culturally. He sees plants as part of larger historical narratives, whether they are species grown by Benjamin Franklin or Gainey's own grandmother. Gainey's musings on figs (using scientific Latinate terms and discussing Western mythology) demonstrate his devotion to gardening as botany and cultural study.
"Fields of memory", I may steal that phrase for a painting…