I first met the painter Alan Loehle at a White Space gallery opening for his wife, the choreographer and performance artist Nicole Livieratos. The post on that event can be found here.
This interview doesn't follow much of a traditional question and answer format, because Alan and I skipped around during my visit to his studio in late January, focusing more on individual paintings and drawings, his time in Rome and Brooklyn, and his tales about meeting the artists Louise Bourgeois and R.B. Kitaj.
In the separate large studio behind their historic home in Decatur, sharing mugs of his favorite English tea, and with Emmie-Lou, the family's huge (and massively friendly) South African Mastiff joining us, we talked about his painting and how he works.
Emmie, guardian of the studio…and my new best friend.
Loehle has been painting for most of his adult life. Just ten years after graduating with an MFA from the University of Arizona, he received an NEA fellowship for painting. A couple of Pollock-Krasner grants later, he snagged a Guggenheim fellowship in 2007.
Loehle says that his work changed dramatically during and after his trip to Rome. In his statement he says,"the new paintings juxtapose cultural symbols, images from everyday life, art history and myriad other sources… They are an attempt to make sense of experience, to capture the bigness of being alive in the world, to somehow tickle the back corners of the viewer's mind and spirit." 
I asked him to explain some of his interests in painting, in terms of form and subject matter. Loehle says that while he isn't interested in allegory per se, he believes that all great work inhabits space in a transcendent way and is inexplicable. The mystery or alchemy of painting resides in the materials he works with; oil, acrylic and oil pastels as the vehicle with which to communicate to us.
Rome Belvedere (Remembering Kitaj), 2008. Oil and paint stick on canvas 68.5 x 58.5 inches.
But more than that, Loehle works with emotional content. He tackles the big issues; lust, death, life. Few of his works are outright humorous, but those that are rock with color and conflict; the human condition as seen by an'other' creator; the artist. His objective to merge disparate elements and lose representational space, while referencing both ancient and modern mythology, results in fascinating juxtapositions.
In his 2011 painting 'Correggio Kiss', we see the graphically limned body of the Roman river nymph Io in the arms of the cloudlike Jupiter (the Roman goddess Juno's unfaithful husband, disguised himself as a cloud to conceal the affair), along with a laughing monkey sitting at the lower left, a graffiti like phallus pointing out of the canvas frame and a large superimposed head over the entirety of the painting.
Correggio Kiss, 2011. Acrylic on canvas, 74 x 54.75 inches.
This is not only a painting about the irony of the human condition, Loehle has set up a formal conflict in the picture plane. There is no perspective, everything here is frontal.  The depth exists from graphic superimposition. We feel the tension and the problem, without knowing quite why. In this respect, as an emotional tour de force, Loehle succeeds. While Correggio was including the spectator in his painting by bringing it to eye level, he too dispensed with perspective and used overlapping elements to create depth.
Loehle appropriates graffiti and Mexican Day of the Dead symbolism in his work – there is local street artist iconography that he's incorporated into some of the work, along with skulls and common poison symbolism. Some of the work has deeply personal references; the painting immediately below reflects on his father.
Death Painting, 2011. Acrylic on canvas, 74 x 54.75 inches.
Chaos I, 2010. Oil and paint stick on canvas, 49 x 38.5 inches. Photo courtesy Marcia Wood gallery.
There is a definite narrative in most of his work, despite its current focus on abstracting the figure. And there is a passionate release that seems to be evident in his most recent works. In a 1986 interview, the Italian painter Sandro Chia said that he had been through many 'isms, but that he came out of it with the possibility to view a painting as "not just paint on a canvas, but as something else… A painting is not just an object: it has an aura again."
In other words, the act of painting transforms ordinary life into a moment of transcendence. Loehle wants to make some kind of sense from all of these experiences, and during the process he tackles the big equations; life, sex and death. There is much symbolism in his work but his main preoccupation is with what he calls the disparate connection of representational space.
The painter Jim Herbert is a good friend of Loehle's, and now lives in Brooklyn after teaching at the University of GA in Athens for decades. His axiom from an interview on the blog Two Coats of Paint seems to fit with Loehle's process: "Art making can be a sensual, playful experience – but with the possibility of a wreck on every turn. Both hands on the wheel please."
My questions began with Loehle's influences.
VW I also see in your work a similarity to some of the figurative painters who became known in the late 1970's and 1980's, with their darkly rich palettes and focuses on death. Another Italian painter, Mimmo Paladino, comes to mind. You have one painting, "Remembering Kitaj", titled as an obvious homage to the American painter R.B. Kitaj, who tragically took his own life in 2007. Can you talk about some of your influences?
AL In a way, everyone and no one. After so many years of thinking about art, there is a point where it is all inside you and you sort of put it away, but it's still there. To be more specific, though – Willem de Kooning, because he was the real thing- the consummate painter; Richard Serra because his work is so powerfully distilled; and Piet Mondrian because of his metaphysical "rightness".
VW You are currently an art professor at Oglethorpe University. How does academia and teaching figure into your life as a painter? Is there, in your teaching, any defined philosophy on art or what it means to develop as an artist? And to elaborate, can you discuss any core ideologies that you might have as a painter or the technical aspects of your work?
AL I guess the closest I can get (to a core ideology) would be that art-making is a serious endeavor- that it isn't a game- even if there is a lightness or humor in the work; that it's about things that matter in a fundamental way. In terms of your question about technical aspects, I will do pretty much whatever it takes to pull off a painting. The process has been full of surprises lately. I used to work in a very specific way, but not any more.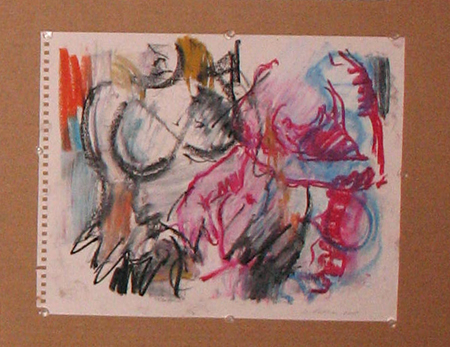 VW How do you stay current, and do you engage much with other artists in your community? I've recently attended a local salon of painters (Seek Atlanta), who regularly visit studios and discuss art and process.
AL I have been fortunate with travel- that's probably the main way.  For example, on a trip to New York two summers ago I saw Christian Boltanski's installation at the Park Avenue Armory. And then there are the art fairs; Frieze in London, Art Miami and others. Also, I am lucky to have friends from all over the country who are artists, writers, playwrights – we stay in touch.
VW Many artists are combining the traditional gallery system with a migration to an online 'art retail' option, much as books became ubiquitous as an Amazon model. Do you see the role of the internet as a challenge, or an opportunity for your future as an artist?
AL Re the internet – I need to do a lot more to expand exposure for my work and reach out to prospective audiences.
VW Your next solo exhibit is at the Marcia Wood Gallery in Atlanta in March. Talk about how you chose the works or your ideas about structuring the exhibition. Do you exhibit outside Atlanta as well?
AL Marcia and I will fine-tune our selections soon. We will first focus on the work we chose for the catalog, which are eight of the paintings from the Rome trip during the Guggenheim Fellowship. Then we will have to think about what drawings (both pencil and oil pastel from the sketchbooks) will add context. In terms of showing outside Atlanta, I have exhibited a fair bit over the years but right now, I don't. It is a priority to me to get this work out.
Alan Loehle's work can be seen at the Marcia Wood Gallery, opening March 16th, 2012 from 6-9pm. You can also find his work online at The Drawing Center.