The November 11th opening at artist Elyse Defoor's new gallery EBD4 and studio space in Chamblee was well attended by Atlanta art cognoscenti. Unfortunately, flu-like symptoms prevented my going, but I caught up with Defoor the following Saturday at EBD4. The 2,000 foot space is just off Chamblee-Tucker road in the Chamblee Commons business center. Elyse has built out a salon type area, there are two large exhibition spaces and a rear area is her working studio. I was impressed with the two mammoth roll-down garage doors, that just beg for giant paintings to be hauled through them.
The invitational exhibit, titled "40 over 40", is a tribute to artists who are mid-career or older, although a few had never shown before. "This show champions artists who continue to take risks, explore, and do the work that they are meant to do," says curator Defoor in Buckhaven Lifestyle, and acknowledged that she chose what she liked in terms of curating the work. A few artists are mainstays on the Atlanta art scene, one small painting is by Jerry Cullum, the city's preeminent arts critic. Many others I had met from exhibits years ago, or through the Seek ATL group, founded in 2011 by the now New York based painter Shara Hughes and Ben Steele, who still resides here.
The show includes sculpture, painting, printmaking, drawing and mixed media, photography, fiber and textile art and provides a good overview of a strong group of artists who have devoted their lives to making and creating. What stands out is the diversity of both style and mediums, but because of the thoughtfulness of the installation the entirety of the exhibit flows smoothly, and sometimes surprisingly, throughout the space. I missed a few artists in this post, please head out to Chamblee before the show ends to catch everyone's work.
The front gallery has a small seating area.

Some of the artists had until recently, studio spaces at the Arts Exchange on Kalb Street, now slated to be
developed
and transformed into
"creative office"
space.
Marc Brotherton, Killskreen 1.81. Acrylic and glitter on canvas. Brotherton's glittery geometrics are a key signature in his works.
Anne Rowles, Porosity. Cotton thread, found doilies, tubing, wire
Lisa Tuttle, Skin. Dye sublimated print on fabric, edition of 2
Martha Whittington, Material Study. Leather, mahogany, brass, cotton cording
Leisa Rich, Tolbachik's Cup Coral. PLA: plant-based biodegradable plastic, fabric, artist original photo heat transfers, thread, resin and microbes
Steven Anderson, 89 Years #2. Marker and pen on paper mounted on canvas on panel with UV varnish
Terri Dilling, Cloud Shadows. Acrylic and mixed media on panel
Phyllis Kravitz, Tableau. Wood, plaster wrap, paint, wire, paper
Jerry Cullum, Homage to Rexroth, I. (painted 12/22/2005, Kenneth Rexroth birth centenary) Acrylic on wood with found frame
Hollis Hildebrand-Mills, Rider. Collage oil and acrylic
Jamie Ballay, Me, Myself and Mine Eye. Oil on panel
Ande Cook, Field Botanik. Acrylic on birch panel
Anita Arliss, Murder in Moscow. Oil paint and UltraChrome ink on canvas
Lisa Alembik, Spider: 'the quintessential american narrative…quest for home' Graphite and conte pencil on Rives paper. Quote from Junot Diaz
Joe Dreher, Plant Life. Acrylic paint on wood panel
Eileen Braun, Turning Point. Mixed media with fiber and encaustic wax
Callahan Pope McDonough, Django 2017. Face mounted archival pigmented print, 1/4″ acrylic
Richard Harris, Modern Tessellation #4. Acrylic and watercolor on canvas
Temme Barkin-Leeds, Twelve Best: Unaware. Oil, acrylic, ink, marker, graphite on canvas
Angus Galloway, Untitled. Drawing mounted to panel
Kathleen Gegan, Your Shadow Kisses My Twin Cup, Curving Space Time. Woven copper and nylon
Christopher Hall, Amor Fati. Mixed media on canvas with electric candle
Rose M. Barron, The Thinker. Partial print over archival pigment ink on fine art paper
Anna Hamer, Back and Forth. Ink and Acrylic on watercolor paper
Julie Henry, Special construction no. 2. Assemblage of cardboard, paper, paint and vintage dry cleaning tags
Michael Jones, Government Issued. LED lights, archival print, marker, spray paint, gold leaf
Susan Ker-Seymer, Folio. Acrylic, graphite, and canvas on wood panel
Andrew Huot, Walks with Rosie. Artist proof of 20
Judy Lampert, Untitled. Archival print on Japanese Kozo paper
Branda Mangum and John Morse, Walking through the Colors. Quilted cloth.
Corrina Sephora Mensoff, Uprooted Voyagers. Forged and fabricated steel, recycled steel
Melissia Fernander, Forty Thoughts. Window and lighting. This piece was suspended from the ceiling near the front salon area.
Carolyn Rose Milner, Woman's Torso. Woodcut print
Karl Kroeppler, Conversation No. 6. Mixed media on paper
Rick Robbins, Gatherings – into the light. Oil on canvas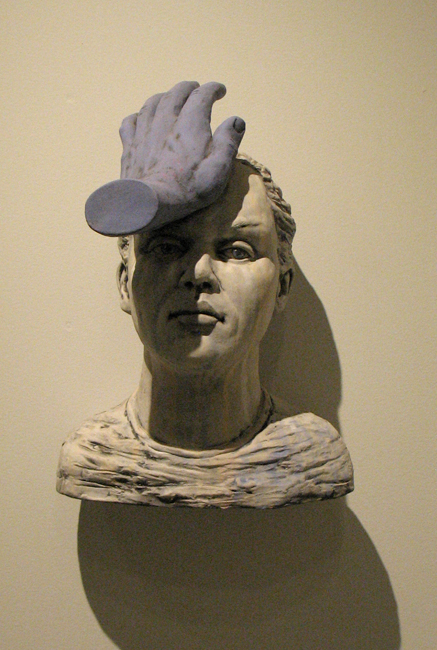 David Robinson, Blue Flow. Ceramic with underglazes
Stacie Rose, Candy Pill. Acrylic and mixed media on wood
The exhibit has been extended until January. Gallery hours are noon to 6pm Saturdays and by appointment.
EBD4, 2382 Chamblee Tucker Rd., Chamblee, GA 30341. Ph 404.667.1902, ebd4@bellsouth.net