The latest SeekATL visit this past Saturday was held at Brian Dettmer's studio and house in Doraville. Some of those in attendance suggested that while having a studio in house offers a more personalized view of his/her lifestyle, that glimpse isn't usually relevant to the work and could serve to distract. I enjoy being in areas that I would otherwise never visit, and don't expect the space to define the artist's production. Dettmer's neighborhood just north of the city is dotted with circa 1960s mid century modern ranches and his narrow, light filled studio/entry room reminded me of my own studio, once a back porch.
I had read about Brian's book art in a New Yorker article last year and was intrigued. It was great to finally meet him and see his work in progress. The totem below is being prepared to be cut into.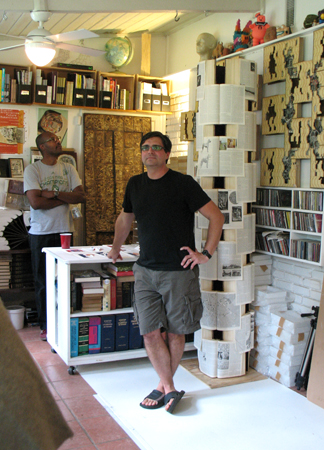 Originally from Chicago, Dettmer has been carving into Encyclopedia Brittanicas and other books that pre-date 1970, since he stopped painting almost a decade ago. He suggests that the physical form of information is becoming a thing of the past and in his statement says that "material and history are being lost, slipping and eroding into the ether. Newer media swiftly flips forms, unrestricted by the weight of material and the responsibility of history."
Dettmer works as a kind of archaeologist, not knowing what might be found as he cuts into the books. He notes that there is an interaction between himself and what has been communicated in the pages. His work is fascinating, but any book collector might argue that the form itself is worth preserving. The philosopher and critical theorist Walter Benjamin, a book collector, said that "one of the finest memories of a collector is the moment when he rescued a book to which he might never have given a thought, much less a wishful look, because he found it lonely and abandoned on the marketplace and bought it to give it its freedom- the way the prince bought a beautiful slave girl in 'The Arabian Nights'….To a book collector, you see, the true freedom of all books is somewhere on his shelves."
Dettmer hasn't had to take a day job in some time and his bookshelf is dotted with books he's been in, one of his works graces the cover of Book Art, Iconic Sculptures and Installations Made from Books, published by Gestalten Press. He uses mostly  non-fiction books and admitted as a reader he wasn't much interested in fiction, although the transformation of burned Danielle Steel paperbacks into a sculpture in the form of a door might suggest otherwise.
In this interview with Gestalten.tv, Dettmer talks about his process and what books may mean in an age of increasingly rapid information and data transfer.
Dettmer's solo show Elemental, at MocaGA, opens on October 20th. His new flag motifs will be displayed, along with a triptych reminiscent of early pixelated computer graphics. His background as an animator seems to have influenced some of the work.
A totem standing in the living-room.
Early work with a figurative theme.
Be sure to check out his website for more amazing work.